DVK 808 #3 Keychain Mini Camera (720x480)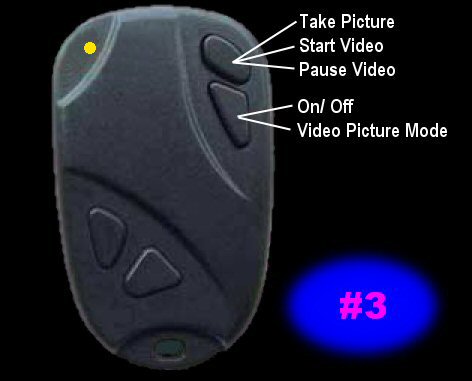 EBay Seller: digitaleletech168
Dont know what 808 camera you have? Narrow down your search with the 808 selector
How it works: If you look at the buttons on top you will see 4, the back 2 are fake.
Button 1: Hold button for 3 seconds to turn cam on (indicator lights solid yellow) Hold 3 seconds to shut down (indicator light goes off) Hold 3 seconds to stop a video during recording (indicator light goes off)
Button 2: One quick push will take a picture (indicator light blinks once for each picture) hold the button for 3 seconds it will start recording video (indicator light blinks 3 times then goes off) One quick push during video recording will also pause the recording.
Side note: Sometimes you dont know if your recording video or the cam is shut off when the indicator light is off, I guess thats why they call it a spy cam cuz a recording light would make it visible :) After 35 seconds of non use the camera will automatically shut down.
Camera drive: After connecting the cam using the USB connector a box will pop up "installing drivers" which are the USB mass storage device and video camera USB device. A new drive will be listed on your pc, depending on your pc it may appear as "Removable Disk (J;) "
Pictures and videos: All media files will be saved to the "DCIM/100MEDIA folder on the camera drive. Right click any of the media files you created in the folder for options like Cut, Copy, Paste, Delete. What I do is highlight all media, cut and paste them to a folder on my pc, this deletes them off camera and saves them to pc.
Video file sizes: You should get about 0:50:00 minutes of constant recording time which will put you around 4 GB. You wont need more than a 4G SD card for this cam.
Movie Maker 6 for windows 7: Windows live movie maker shipped with windows 7 is more of a down graded movie maker 6. For those who want the better movie maker 6 for win7 -64 bit edition you can download it here, download also includes K-lite codec pack 64 bit. See how to: video
PIP using windows movie maker 6: Make a picture in picture video using RehanFX transitions and effects for Vista movie maker. See video: RehanFx PIP.
RC Plane Video edited with windows movie maker for smallest 740x480 file size.
SD cards: SD cards range from 2-32 GB. The cards used are the Micro SD/TF/SDHC with storage space 4GB/8GB/16GB/32GB. Tip: TF = TransFlash, SDHC = Secure Digital High Capacity. Your local computer store may sell these cards but you will probably find them cheaper online. The higher the class number (2, 4, 6...) the faster the read/write speed. Transcend and SanDisk are popular brands. 4GB class 4 or higher recommended. Class numbers will be circled, see pic below. A higher class card is recommended. Note the class numbers in pic below.
Note: When inserting the SD card the brass pins on card will face upwards towards buttons of camera. A slow yellow blinking light will appear when switched on if the SD card is not inserted.

Remove or insert SD card: push card IN until you hear a "click" sound.
Charging: USB takes up to 2 hours to fully charge if the battery is completely empty, the yellow light will flash until it reaches a full charge of about 4.2v where it will stop blinking letting you know charge is complete. Sometimes when using a pc to charge camera it seems to stop charging at around 95% and the camera light keeps blinking. Try using a 5 volt wall charger or cell phone charger with USB to top off battery to 100% and the light will stop blinking with a full charge. Like most lipo batteries the first 90% of charge goes fast but the last 10% takes the longest. In other words most people will say the battery is fully charged at 95% (1 hour of charging) where it actually takes up to (2 hours of charging) to be fully charged 100%
Note: If your camera only has a solid light (non blinking) when charging try switching the USB cable. One cable I used the light would stay solid and would charge very very slowly, after switching the USB cable it started blinking (normal charging) This seems to be a very common problem with cheap USB cables not making a good connection.
How to set the time and date: The time and date you need to make a text file called tag.txt so open notepad and type this in as shown:
[date] Space/Enter
2010/01/01 Add your date then Space/Enter
12:06:20 Add your time
Save the notepad file as tag.txt
There are 3 ways to add this file to the camera.
#1 Using a sd card reader or sd adapter place the tag.txt file onto the sd card next to the DCIM fold , then plug sd card back into camera and the next time you power up camera it should be set.
#2 Using USB place the tag.txt file next to the camera folder named DCIM (this is the root of camera)
#3 Using USB place the tag.txt file onto the drive letter of your camera by going to start/computer/camera drive /then drag and drop or copy and paste the file onto the drive letter.
Unplug the camera and power it off. Next time you turn it on the file will be accepted and the time and date will change. If you cant figure it out heres the TAG.txt I made, just change the numbers to your date and time.
Once the tag.txt has been accepted the camera will delete it, so you wont see it in folder next to DCIM folder anymore. If the battery goes dead it will lose the date and time so hang on to the tag.txt file.
Removing the Time and Date: As of now there are 3 ways to remove time and date, #1 use Logoaway, #2 Virtual Dub, #3 Add a title or layer over the time and date as I did in video above. To be honest none of these methods are that good, you may just want to leave it and save yourself the trouble. You can also remove time/date using firmware method but there is a chance it could trash your camera. It has worked for countless others but it is not guaranteed to work for everyone. Download the needed files Here then follow the included readme and walkthrough videos.
DVK808 as a web cam: You may need to hold the power button down as you plug in USB cable when using web cam the first time so it can install device drivers. After installing the web cam Drivers plug in the USB cable and push the power On/Off button once to start web cam mode. A pop up window on pc will show progress of driver installation. When finished, unplug the camera and plug it back in. Push the power button once to start web cam mode. Open Programs/SPCA1528 folder and select "Amcap.exe" to view the live capture from camera. Tip: Exit the Amcap program first before shutting down camera or program may not close (not responding error.)
Original Manual that comes with camera. In broken English and microprint the manual is very hard to read.
Inside the 808 #3: Take a Closer look at the internal parts of the 808 #3
Pros and Cons:
Pros: Great sound/video quality. Excellent camera for the price.
Cons: Time stamp not removable. Light does not blink while recording.
This is what the time stamp looks like on my #3 cam (said to be the best) all file names start with SUNPxxxx and it uses tag.txt for setting time/date which is located at the bottom right of each video/picture.